Welcome to the CBDC!
The Parry Sound Area Community Business & Development Centre is a federally supported not-for-profit Community Futures Development Corporation, governed by volunteers in partnership with FedNor. The services provided by the CB&DC exist to promote economic growth and community development of the Parry Sound region. The centre focuses on job creation by community strategic planning and providing funding and advisory services to area businesses.
Since opening its doors in 1987 the CBDC has approved over 528 loans, valuing over 45 million dollars.  The CBDC has created & assisted in maintaining 2173 jobs in the local area.
Industry Canada/FedNor and others provide various Tools for Business to assist both start-up and existing businesses. The CB & DC can offer these products as tools to entrepreneurs in the Parry Sound area.
Our MISSION is "We find a way to say YES"
Looking for Help This Summer?  Why Not Hire a Student between the ages of 15 and 30?  Financial Assistance for Wages Is Available!  The 2017 Canada Summer Jobs (CSJ) application period for employers is now open.
Apply before January 20, 2017!
The application form is currently available at www.canada.ca/canada-summer-jobs. You can submit your application online, by mail or in person at any Service Canada Centre.
For a better understanding of the Canada Summer Jobs program including key tips to apply, please watch this YouTube video
CURRENT NEWS
REDAC Regional Marketing Plan June 2016
The Parry Sound Area is comprised of seven municipalities, five of which are part of REDAC (Regional Economic Development Advisory Committee) Township of Carling, Seguin Township, Municipality of McDougall, Township of the Archipelago, and the Town of Parry Sound.  REDAC created their economic development strategy in 2006 and believes that appropriate economic development in one Municipality is beneficial  for all five Municipalities and as such have been building their economic capacity and promoting the area as one Development Community.
New Regional Economic Development Officer
The West Parry Sound Community Investment Initiative in Northern Ontario (aka WPS CiiNO) is pleased to announce Mr. Dustin Turner is the new Regional Economic Development Officer.  Welcome Dustin!!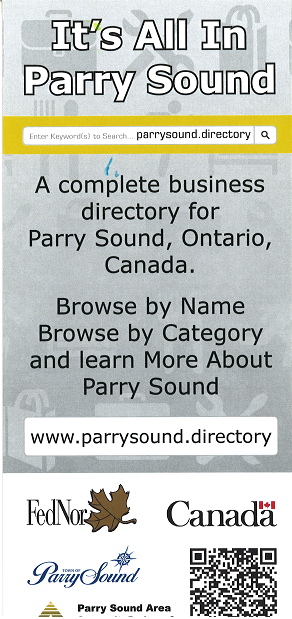 Parry Sound Business Directory
Not on it?  Give us a call 705-746-4455
"More Bang for the Buck" – The Impact of CFDC Lending on Ontario's Economy Published Mar 2016